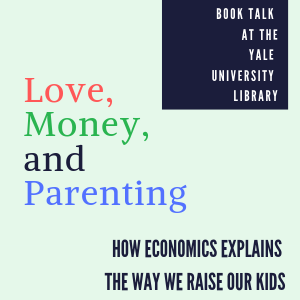 Parents everywhere want their children to be happy and do well—yet how parents seek to achieve this ambition varies enormously across time and cultures.
In their new book, Love, Money, and Parenting (Princeton UP, 2019), authors Matthias Doepke and Fabrizio Zilibotti investigate how economic forces and growing inequality shape how parents raise their children. From medieval times to the present, and from the United States, the United Kingdom, Germany, Italy, Spain, and Sweden to China and Japan, Doepke and Zilibotti look at how economic incentives and constraints—such as money, knowledge, and time—influence parenting practices and what is considered good parenting in different countries. They show that in countries with increasing economic inequality, such as the United States, parents push harder to ensure their children have a path to security and success. Economics has transformed the hands-off parenting of the 1960s and '70s into a frantic, overscheduled activity, and growing inequality has resulted in an increasing "parenting gap" between richer and poorer families.
Please join us on March 27, 2019 for a book talk by Professor Zilibotti, who will delve into the role that economic forces play in parenting. He will also discuss how investments in early childhood development and the design of education systems factor into the parenting equation, and how economics can help shape policies that will contribute to the ideal of equal opportunity for all. Professor Zilibotti is the Tuntex Professor of International and Development Economics at Yale. 
We hope to see you on Wednesday, March 27, at 4:30 PM in the Sterling Memorial Library Lecture Hall. Copies of Professor Zilibotti's book will be available for purchase and refreshments will be served. All are welcome to attend.