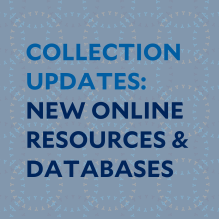 New at Yale
American Hospital Association (AHA) Data
The American Hospital Association's (AHA) annual survey and supplemental data sets provided by Health Forum are the premier databases for all information regarding hospitals and health systems. Our subscription includes access to the historical data from the Annual Hospital Survey, with coverage dating back to 1980. The Financial Database, with coverage beginning in 2005, and AHA Annual Survey IT Supplement, dating back to 2007, are also available. The AHA Data are available on the Wharton Research Data Services (WRDS) platform.
Civil Eats
A daily news source for critical thought about the American food system. Topics include food policy, sustainable farming, environmental issues in food production, and public health. For full access, users might sign up with their yale email address. Learn more about access here.
Emerging Markets Information System (EMIS)
Features news, industry, company, and country data for emerging and established markets. Also includes access to global industry and market research reports from various sources. EMIS is available in Quicksearch.
Sketch Engine
Contains 600 ready-to-use corpora in over 90 languages, with information about the various levels of linguistic processing available here. It can also algorithmically analyze texts of billions of words and is designed for text analysis and text mining. Users can do word sketches (automatic summaries), concordance searches, collocation searches, n-grams, diachronic analyses, and more. You can even upload your files to create a corpus to analyze privately. See the tutorials on the database's YouTube channel to learn more about Sketch Engine's features. Find Sketch Engine in Quicksearch.
S&P Global ESG Scores and Trucost Data
S&P's ESG and Trucost data provides a mix of scores, indicating how well a company does in a given dimension, and data measuring environmental impact for over 16,800 companies. The database is divided into three parts:
ESG Scores contain criteria (most granular), dimension, and global ESG (most aggregated) scores. Examples include supply chain management, eco-efficiency (criteria scores), and environmental & governance (dimension scores).
Trucost Environmental Data reflects the actual amounts of resources used by companies. Greenhouse gases (GHG) are measured in metric tons of C02 equivalent, water in cubic meters, electricity in gigawatts, etc. Usage is reported by scope.
Trucost Climate Analytics Analytics features company-level analysis to assess exposure to seven climate-change physical risk indicators
This data is exclusively available via Wharton Research Data Services (WRDS). A more in-depth overview of the S&P Global ESG Scores and Trucost Data is available here. (You must log in to WRDS to access this site.)
---
Updated Resources and New Content
Audit Analytics - Corporate + Legal
Audit Analytics provides detailed information and analysis on accounting firms and publicly registered companies in the United States. The Corporate + Legal module features data on actions, disclosures, and correspondence from companies, advisors, regulators, and investors. 
Students, faculty, and staff can access Audit Analytics data on the WRDS platform or the Audit Analytics website. Available in Quicksearch
JoVE
After years of increasing requests for video content, the Medical and Marx libraries have extended access to JoVE, the peer-reviewed scientific video journal formerly known as the Journal of Visualized Experiments. Yale now has access to the entire JoVE Journal, including all specialties. In addition, we have a trial subscription for a year to JoVE's educational videos, which include many clinical skills and physical examination videos. Many Yale authors are publishing in JoVE, and some clinical skills videos were produced by Yale faculty. Find JoVE in Quicksearch.
---
Trial Access
Harvard Business Review Press eBooks
Features more than 600 eBooks from Harvard Business Review Press. Books in this collection cover various topics and include popular titles, such as Ethical Machines: Your Concise Guide to Totally Unbiased, Transparent, and Respectful AI, Race, Work, and Leadership: New Perspectives on the Black Experience, and Frontiers in Social Innovation: The Essential Handbook for Creating, Deploying, and Sustaining Creative Solutions to Systemic Problems. Compilations of foundational Harvard Business Review articles like the HBR Guide to Managing Strategic Initiatives are also available. Yale affiliates can download eBooks with an EBSCO account and Adobe Digital Editions.
This trial is available through March 30 and is accessible here. Feedback is appreciated – tell us what you think here.