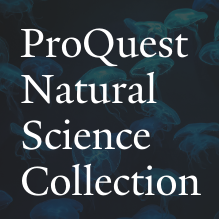 This database combines the ProQuest Agricultural & Environmental Science Collection, the Meteorological and Geoastrophysical Abstracts, Biological Science Database, and Earth, Atmospheric & Aquatic Science Database into a single search platform, with coverage from 1946-present and robust, human-curated indexing. It will be particularly useful to researchers performing advanced searches, with time-saving search limits by keyword, author, author institution, and abstract.
Its full-text resources range from scholarly journals, trade and industry journals, and technical reports to magazines, conference proceedings, and government publications. Notable items within the database are the Water Resources Abstracts, EIS: Digest of Environmental Impact Statements, Environmental Engineering Abstracts, Pollution Abstracts, Meteorological and Geoastrophysical Abstracts, and Toxicology Abstracts.
Yale community members may also search the included collections individually from links on the database's main page. Comments or questions about this collection may be emailed to marx.library@yale.edu.
The ProQuest Natural Science Collection is available in Quicksearch.