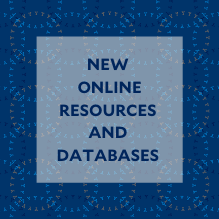 New Resources
Carbon Pulse
Features news and intelligence on carbon markets, greenhouse gas pricing, and climate policy. Coverage focuses on emissions trading markets and other methods of using taxes and market based mechanisms to cut greenhouse gas output. Available in Quicksearch.
Crunchbase Data
Database for tracking business information about private and public companies worldwide. Includes data on investments, funding information, people, M&A, news, and  trends for startup and VC-backed companies. Full, unlimited access to Crunchbase's commercially available dataset via API, CSV, and the web for academic projects.
Find it in Quicksearch
.
Morningstar Direct
 A research platform that provides coverage of Morningstar's global investment database and analytics, including worldwide investment data and global market indexes. It features hundreds of financial variables, including portfolio and ownership data for thousands of worldwide hedge-funds, open and closed-end funds, ETFs, insurance/life products, U.S. variable annuities & life policies, and 529 plans.  Available on a designated computer in Marx Library exclusively.
Learn more here
.
ProQuest TDM Studio
TDM Studio enables researchers to mine large volumes of published content from the millions of pages of news, scholarly and other publications that Yale licenses through Proquest.  TDMStudio provides a cloud-based environment that allows researchers to execute queries, develop datasets, and analyze the text of publications using programming languages and visualizations. Get started with TDM Studio here. 
---
New Trial 
Policy Commons (Trial period through October 30, 2021) 
 A content and discovery platform public policy, with more than 2.5 million reports, briefs, analyses, media, working papers, and datasets from IGOs, NGOs, think tanks, and global research organizations.
Access Policy Commons trial with this link.
 Once you've use Policy Commons, we'd love to hear what you think about it. 
Share your feedback about here.