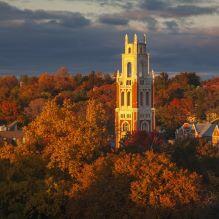 Calling all nature lovers and photo enthusiasts at Yale: Celebrate autumn by sharing your best original photos of the city's parks, wildlife, and sunsets
DEADLINE EXTENDED: Photos can be submitted between November 1 - 17 and will be displayed in Marx Library starting around November 21, 2023. One lucky photographer will be randomly selected to receive a Marx Library tote bag!
Eligibility
The showcase is open to all current Yale affiliates
Rules
By sharing a photo, all participants acknowledge they are the creator of the work, possesses unencumbered title and full copyright to each, and give permission to display their photograph entry in Marx Library.
Each entrant may enter a maximum of two photographs. Both photographs must be in the same email, and entrants may submit one email entry.
Photos must be taken in the New Haven area and feature nature as their subject matter.
Photographs should be appropriate for general Yale community viewing in public spaces.
We reserve the right to eliminate photos from the showcase based on ethical concerns.
All submissions must be sent to rachel.sperling@yale.edu with the subject line "Fall Photo Showcase Submission." Please include your name, Yale email address, Yale affiliation (student, faculty, staff, etc., and school or department), photo title, date taken, and 1-2 sentences describing the photo's location.
Photos will be displayed on our media wall and images with landscape (wide) orientation are preferred.
All images must be submitted in JPEG or PNG format.
Due to the nature of the competition, no AI-generated art is permitted — we want to celebrate the beauty of New Haven and Yale's greenspaces!
We prefer photographs that have not been substantially digitally altered, but using standard photo correction tools is permitted.
We ask that submitted photos do not include recognizable persons and that pets are not the primary subject. 
Rights
By submitting a photo for the showcase, you grant to Marx Library the non-exclusive, worldwide, irrevocable publication rights for your submitted photo(s) on the Marx Library media wall and the rights for your photos to appear in Yale Library marketing materials related to the showcase. This includes the right to use your photos on our website, in print, in electronic marketing communications and promotions, and as part of internal reporting/documentation for Marx Library. All photographs will be credited. You retain the copyright to your photographs.