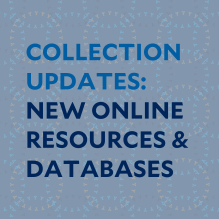 New online resources & databases available this fall from Yale Library:
Business of Fashion Professional
Provides news, exclusive analysis and briefings, and case studies on the global fashion industry. For access, Yale affiliates must create a login with a valid Yale email address. Learn more and register for an account. Please note: The campus subscription does not include access to BoF Insights reports.  
Cabell's Journalytics Medicine & Predatory Reports
Gathers information about medical and related life sciences journals to help research professionals make decisions about where to publish with a multifaceted breakdown of possible red flags to help you. It is also useful to researchers during their literature review process. Find Cabell's Journalytics Medicine & Predatory Reports in Quicksearch.
Provides data and statistics for online stores from around the world. Includes information on revenue, competitors, market development, marketing budgets, and other KPIs, such as traffic, shipping providers, payment options, and more. eCommerce is available in Quicksearch and can be accessed through Statista (Insights > eCommerce Insights). 
WaterData provides a comprehensive map of the municipal and industrial water and wastewater markets, providing a top-level view of market trends and slicing the sector by region, technology domain, digital solutions and the industrial sectors. Supported by granular market size data, forecasts, databases and third party sources, GWI intends the platform to be a single-source for all data critical to business planning in the water industry. Available in Quicksearch. 
Project Syndicate publishes commentary and op-eds from prominent international scholars and intellectuals on various topics in international politics, global affairs, economics, and more. Our institutional subscription provides unlimited online access. Find Project Syndicate in Quicksearch. 
S&P Capital IQ Transcripts (via WRDS)
Provides current and historical transcripts of more than 8000 company events, including earnings calls, M&A calls, and shareholder calls, dating back to 2004. This data is accessible throught the Wharton Research Data Services (WRDS) platform. Learn more about WRDS at Yale here. More information is available on the WRDS Overview of Capital IQ Transcripts Data.