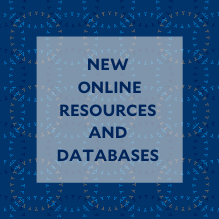 New at Yale
The Block Research
The Block Research portal features data and in-depth research and analysis on the digital asset landscape. Our subscription includes access to over 2,000 reports published by The Block's research team, covering topics such as Defi, Layer 1, NFTs, Web 3m, and more. Also included is a Data Dashboard that features daily updates on key metrics, including spot volumes, on-chain metrics, and DeFi.  Students, faculty, and staff are invited to join monthly analyst calls and thematic webinars led by the Block team on market trends and popular topics. Learn more about registering for access here. 
Bloomberg.com
Bloomberg.com is a popular online publication that features news, data, analysis, and video content from the Bloomberg News group. Current students, faculty, and staff can register for an individual account at https://www.bloomberg.com/account/register using their yale.edu email address and receive unlimited access to the Bloomberg.com site and mobile app.  
Please note: Our Bloomberg.com subscription does not include access to other Bloomberg products, including Bloomberg Anywhere, BloombergNEF, or Bloomberg Law. Bloomberg.com credentials require a Yale email address and differ from the Bloomberg Terminal login name.
Consumer Pyramidsdx
Consumer Pyramidsdx is a longitudinal survey of over 236,0000 households in India and is conducted three times a year. Starting in 2014, its' data measures household consumption weekly, monthly and adjusted monthly expenses. 
Insider
Insider (previously known as Business Insider) features premium news articles about business, technology, global affairs, healthcare, and more. The site also includes access to a startup pitch deck library, salary database, and organizational chart library for select companies.  Current students, faculty, and staff can register for an account using a valid yale.edu email address. Download the Insider app here.
IOP (Institute of Physics) 2022 eBook Collection
Features interdisciplinary resources relevant to theoretical, experimental, and applied physics; engineering; astronomy; and medicine. Books are available in PDF, ePub, or Kindle formats. Find recently added titles here. Individual titles can be searched in Quicksearch.
Policy Commons
Policy Commons is a one-stop community platform for objective, fact-based research from the world's leading policy experts, nonpartisan think tanks, IGOs, and NGOs. The platform provides access to nearly 2.5 million full-text think-tank publications, including policy reports, administrative documents, books, project and campaign documents, working papers and discussion papers, journal articles, press releases, briefs, and brochures. Premium content on the platform includes licensed documents from the Environmental Law Institute, Council of Europe, African Books Collective, and the EPA's policy archive. Access Policy Commons here.
---
Updates & New Content