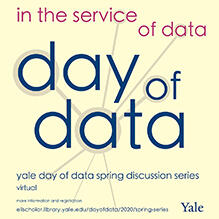 Join us for our second talk in the Yale Day of Data Spring Discussion Series: Health Care Pollution - Balancing Patient Safety and Public Health, with Dr. Jodi Sherman. 
Thursday, April 29, 2021, 3:00 - 4:00 PM
Dr. Jodi Sherman is an Associate Professor of Anesthesiology at Yale School of Medicine, an Associate Professor of Epidemiology in Environmental Health Sciences at the Yale School of Public Health, and the Medical Director of Sustainability for Yale New Haven Health. At YSPH, she also serves as the founding director of the Program on Healthcare Environmental Sustainability of the Yale Center for Climate Change and Health. Dr. Sherman is an internationally recognized researcher in the emerging field of sustainability in healthcare. 
Dr. Sherman's use of sustainability metrics in healthcare, along with the sheer diversity of the data inputs she uses, will be a delightful talk relevant to contemporary issues in public health, the climate crisis, sustainability, and patient safety.
The Day of Data Spring Discussion Series is an annual follow-up to the year's Day of Data, providing an opportunity to continue data conversations at the University. This spring (2021), we are delighted to present Zoom-based talks and panels related to data infrastructure.