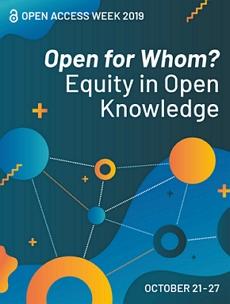 Join the Center for Science and Social Science Information in Celebrating International Open Access Week.
Open-access (OA) literature is digital, online, free of charge, and free of most copyright and licensing restrictions. What makes it possible is the internet and the consent of the author or copyright-holder. Learn more about OA at Yale by attending one of our events:
Open Access Information Table
Tuesday, October 22, 11:30 AM – 1:30 PM, CSSSI 24-Hour Space
Curious about Open Access? CSSSI librarians will be available to discuss the basics of Open Access and answer common questions about OA support at Yale. 
Choosing an Open Access Journal for Publication of an Article
Thursday, October 24, 10:30 AM - 11:00 AM, CSSSI Room S57 (Lower Level Seminar Room)
In this session, Lori Bronars will discuss resources for choosing which open access journals to publish in and for avoiding publication in predatory journals. More information is available at https://schedule.yale.edu/event/5748656.